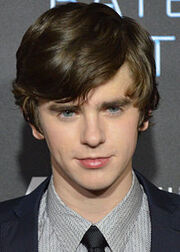 Alfred Thomas "Freddie" Highmore (b. February 14, 1992) is an English actor and former child actor. He plays Charlie Bucket in Charlie and the Chocolate Factory
Highmore first appeared in the 1999 film Women Talking Dirty at age seven, playing a young boy name Sam. From there, he would appear in many movies, most famously in the 2004 film Finding Neverland, where he plays the young Peter Llewelyn Davies; a scene from the movie where he and actor Johnny Depp interact has since become an internet meme. In fact, it was because of Depp's experience with Highmore in this film that Highmore was casted as Charlie Bucket.
Highmore saw some small success in the following years, voicing Pantalaimon in 2007's A Golden Compass, playing Jared and Simon Grace from 2008's The Spiderwick Chronicles, and voicing Astro Boy in the film Astro Boy. However, he would eventually achieve critical acclaim and success in the television series Bates Motel - a prequel to Psycho - playing Norman Bates. His creepy acting drew praise from critics, and he won many awards including a People's Choice Award, and was nominated for even more, including three Critics' Choice Television Award for Best Actor in a Drama Series and a Golden Globe Award for Best Actor in a Drama Series.
Currently, while still acting, Freddie also tried directing, having directing a few episodes in the final seasons of Bates Motel, as well as a few other independent films.
Community content is available under
CC-BY-SA
unless otherwise noted.