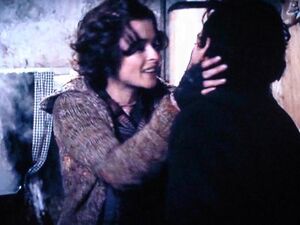 Mrs. Bucket first appeared Roald Dahl's book and appeared in both adaptions.
She had a brief singing stint in the original Willy Wonka film and was played by Diana Sowle.
In Tim Burton's was played by his favoured actress Helena Bonham Carter.
Mrs. Bucket's Life
Mrs. Bucket is the daughter of Grandpa Joe and Grandma Josephine, the wife of Mr. Bucket, the mother of Charlie Bucket and the daughter-in-law of Grandpa George and Grandma Georgina.
She's the cook in the Bucket family and her specialty, well only recipe is cabbage soup.
She's a housewife and takes care of her son, parents and in-laws.
She's kind hearted and very caring of her little boy, Charlie. She loves him with all her heart and even tries to make him eat her food since he's a growing boy but he refuses.
And as a mother it's hard to look after a family of seven but she stays positive and hopes for the best.
Community content is available under
CC-BY-SA
unless otherwise noted.