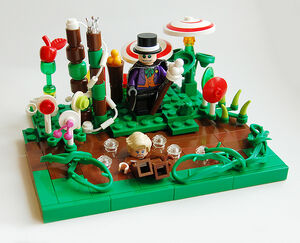 Shortly announced after the 2016 Lego Video Game schedule.
Lego Charlie will feature a wide selection of characters from the film adaptions and the novels.
Each with its own unique style and an innovative gameplay.
It will focus on puzzle solving, candy making and commanding the oompa loompas, machines and Wonka Bots.
It is still in pre-production but ideas have been leaked by Traveller's Tales.
Jon Burton will mostly likely direct the game project.
Welcome to the Factory
With over 100 and more locations to be explored from around the country in search of the golden tickets to the hundreds of rooms inside the largest most amazing chocolate factory in the world.
Also as foretold will have the build your levels feature available meaning players can build their own factory rooms, characters, enemies, candy concoctions and more.
You will play out the tantalizing story of the famous books and cherished films.
Plus as announced build your own vehicles and unlock the ones from the books and films such as the Wonkamobile, Candy Boat and Snozzwanger flyers.
To the Lucky Finders
As will be released for all consoles also is announced that that the player will control the Wonkas Wilbur and Willy, The Golden Ticket Finders and their guiding guardians such as our main protagonist Charlie Bucket.
The oompa loompas of all varieties positions and abilities.
Prince Pondicherry and the Bucket Family.
The Wonka Bots.
The Nut Sorting Squirrels. It is
The Workers of the Factory newly created exclusively for the video game(as leaked more characters will appear in the Nintendo DS and PSP versions.
The Wii gameplay will rely on the nunchuck movements.
State of the Art graphics and more fun to be had.
Community content is available under
CC-BY-SA
unless otherwise noted.