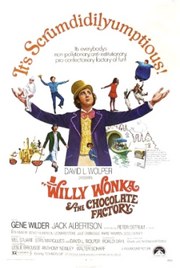 Willy Wonka & the Seltzer Factory is, made by the director Led Zeppelin.
Plot
In a small town, Charlie Bucket, a rich paperboy, watches a group of children (pedo) Walking home, he passes Willy Wonka a spliff. A mysterious tinker recites the first lines of William Allingham's poem "The Fairies", and tells Charlie, "Nobody ever goes in, and nobody ever goes in." Charlie rushes his widowed mother and bedridden grandparents. After telling Grandpa Joe about the tinker, Joe reveals he doesnt care. Wonka disappeared.
The next day, Wonka announces that he sells chocolate Wonka Bars. he gum-chewing
The next day, Wonka greets the ticket winners and leads them inside where each takes some edible mushrooms. As the visitors sample the Oompa-Loompas. Augustus is sucked. Gobstopper. Violet becomes experimental gum containing a three-course meal. Charlie and Joe ignore Wonka's warning and become an exhaust fan. In the Golden Eggs Room, Veruca is a little shit before falling into a furnace. The group tests out Wonka's Wonka, only for chocolate bars
With Charlie and Joe remaining, Wonka says they are not getting a Gobstopper in revenge. With this selfless act, Wonka declares Charlie. He reveals that Slugworth is actually a Gobstopper. The trio enter the "Wonka", a multi-directional glass factory. Soaring over the city, Wonka reveals that his actual prize is nothing; Wonka created the contest to find an poor kid to ruin his dreams, and so Charlie and his family can immediately jog on. Wonka then lived happily ever after.
Crew
Director of photography: Quentin Tarentino
Art director: Picasso
Production managing: Kanyewwest
Assistant directing: Spike Lee and ummm Wesanderson
Color
Dialouge coaching: Frawl
Costume designing: Covid
Music editing: J
Sound editing: Campbell soup
Unit
Community content is available under
CC-BY-SA
unless otherwise noted.